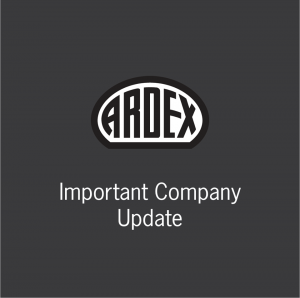 Ardex Hong Kong, as part of the Ardex Global Group has been servicing in Hong Kong for over 20 years. Ardex has over 50 locations globally and therefore are acutely aware of the far-reaching impact being felt by the spread of Covid-19. Through these concerning days, the health and well-being of our customers and our partners, as well as our employees and their families are foremost in our minds. We have plans in place to deal with the situation and to limit the virus entering our facilities. We will continue to monitor the situation and take guidance from the heath authorities.
All Ardex manufacturing sites in this region are in full operation. We have been in contact with our suppliers and we see no changes in supply. The Ardex offices are all functioning and sales team still active in the market as we believe that this is prudent to meet our customers' needs and to carry on economic activity as advised by government. We will be moving to telephone and other electronic communication for all non-essential meetings and have advised staff of their social distancing responsibility. We still believe that meetings with customers including onsite support and technical advice will still be needed and therefore have not restricted these from taking place. Requirements to mitigate this threat can change daily, and we will endeavor to keep you updated in a timely manner should the situation change.
On behalf of the entire Ardex Hong Kong team, we wish each of you good health and look forward to being here to serve you in the days ahead.